Wedding Officiant Consult
$0.00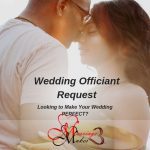 We want to help make that not only your dream but your reality!
We are here to be at your service. We want your ceremony to be the icing on the cake! We want to take some time and sit down with you to see that your hearts desires are so.  We want to deliver just that and more!
So whether you want to use the vows that we've prepared or your own personalized vows we want to put you at ease during your special day!
Please use this form so that we can get together for a free Wedding Encounter!
We can get to know each other, see if we're compatible and then begin a couple of forevers!
FREE CONSULTATION!!!